ORSOFT Manufacturing Workbench is certified by SAP SE for integration into SAP ERP and S/4HANA and is used as a supplement to ERP, SCM and S/4HANA solutions by customers worldwide if, in terms of production planning, SAP ERP needs to be enhanced with functional or model-specific additions and be fully maintained, if APS functionalities for SAP Industry Solutions are desired.
Since 1997, ORSOFT has been working in several partnership statuses with SAP SE. Within the scope of Best Practice for Chemicals and Best Practice for Pharmaceuticals, ORSOFT supplies the Advanced Planning Board and is actively engaged in the Industry Value Networks for Chemicals and IVN for Consumer Products. From 2007 until the end of the SAP-endorsed-business-solution program, the ORSOFT Manufacturing Workbench was an SAP-endorsed-business-solution. Since the beginning of 2018, SAP and ORSOFT have successfully collaborated in a co-innovation project on a laboratory planning solution for the cloud variant of S/4HANA (ORSOFT LabScheduling).
The solution ORSOFT LabScheduling (Laboratory Resource Utilization Planning) is also available through the SAP Store.
This and many joint implementation projects emphasize the close partnership between ORSOFT and SAP.
SAP Integration Certifications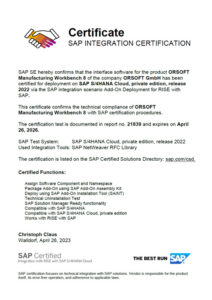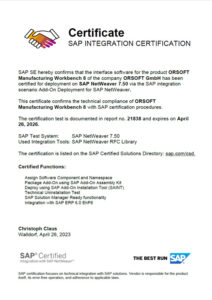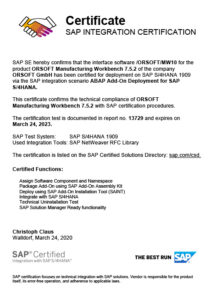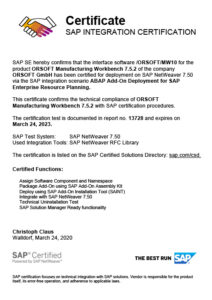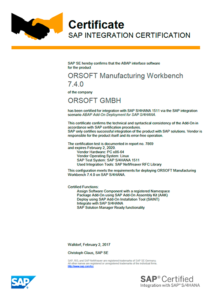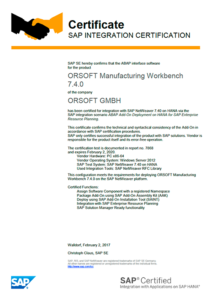 ORSOFT solutions are based on most recent SAP technologies and are rated as "Certified Integration with SAP S/4HANA", "Certified Integration with Applications on SAP HANA", and "Certified for SAP NetWeaver", and "Powered by SAP NetWeaver". The Plug-In for SAP ERP uses its own namespace /ORSOFT/. The "SAP Certified in DevOps" certification additionally underlines the good cooperation.